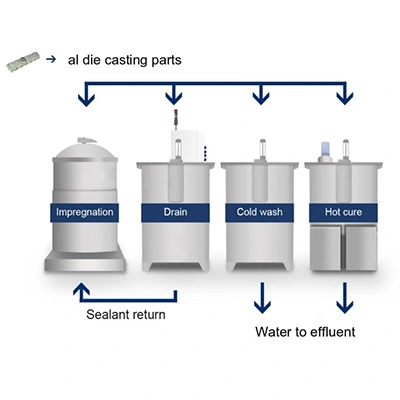 In the automotive industry,some automotive aluminum parts are made of zinc and aluminum alloys die casting. The effects of impurities in the alloy, that the tooling and equipment may cause the internal defects of the casting. Some defects such as porosity, shrinkage holes, and loose tissues are difficult to detect with the naked eye. The existence of the defects will lead to the risk of leakage of the sealed performance and increase the wear of machining tools, and at the same time add extra production costs. The increase makes it difficult to guarantee product quality. To solve the problem of die casting high rejection rate, the "impregnation" process is adopted for remedy.
Therefore, impregnation technology has been very mature since the 1970s. The application rate of this technology has reached 95%. The impregnation can be infiltrated with the small shrinkage holes and air holes in the casting to enhance the compactness of the die casting parts.
To meet our customer requirement and improve the die casting parts'quality, EMP Die Casting can provide the impregnation services, leakage testing of aluminum casting, also we could offer FREE Technical Analysis on the die casting parts design, if you might require this, we are glad to support your projects at anytime.