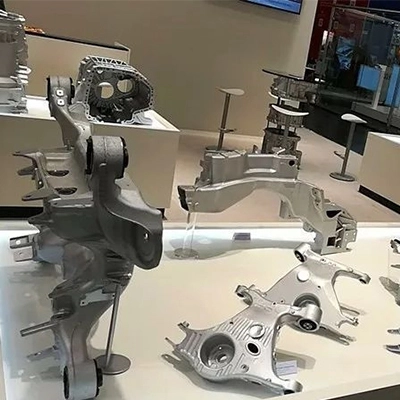 The die casting machine and die casting mold are the core equipment for die casting production, combined with the peripheral supporting equipment that is the die casting island unit. Die casting machine is the machine used for die casting parts production. The die-casting machine is relatively standardized, and by installing different die-casting dies, it can realize the production of various shapes of die-casting parts.
When die-casting production, the molten liquid aluminum alloy is now poured into the die-casting machine's injection mechanism, which pushes the aluminum liquid into the mold and presses it into shape, and the aluminum alloy parts are quickly cooled to solid state by the cooling system inside the mold, and finally the mold is opened and the robot takes out the parts, cleans and sprays the release agent before the next cycle of production.
Die casting production is high temperature, fume and noise, and the industry usually adopts automatic production. The periphery of die casting machine needs supporting melting furnace, machine side furnace, taking and cleaning spray robot, cutting edge equipment, machining machine tool, testing equipment, cooling system, exhaust system, etc. The above peripheral equipment combined with die-casting machine and die-casting mold together is the die-casting island.
According to the specification of die-casting machine, the traditional die-casting production parts size is usually within 600mm, mainly for auto parts, motor shells, cell phone housings, consumable metal parts. In the past decade, the maximum size of die-casting machine is within 5000 tons of clamping force, and the demand is mainly used for the production of commercial vehicle transmission housing and passenger car engine block.
The popularity of new energy vehicles and the trend of fuel vehicles to reduce emissions has led to an increasing demand for weight reduction of structural body parts. Volkswagen, BMW and other German manufacturers have gradually used die-cast aluminum alloy parts to replace traditional sheet metal welded parts in the complex structure of the body, and the size of die-cast body structure parts is gradually increasing.
But limited by the inherent sheet metal welded body of the car thinking stereotypes and existing die-casting machine specifications, traditional car companies did not propose the direct use of aluminum alloy die-casting way to produce the body, welding body is still the mainstream of the current mode of car manufacturing.