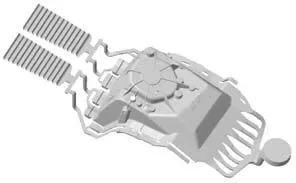 This project designed the existing steel plate punching and welding structure damping tower of a model into a casting structure damping tower through lightweight structure design.
We use the integrated die-casting process to realize the integration and toughness of multiple body parts, and integrate the shock tower from the original multiple stamping parts into a single die casting, achieving 55% weight reduction and performance improvement, as well as reducing multiple connection processes and significantly improving production efficiency.
The aluminum alloy used in this die casting is AlSi10MnMg, which has the advantages of good fluidity, no thermal cracking tendency, small linear shrinkage and good air tightness.
Aluminum alloy shock tower is generally light in weight, but the product size and projection area are large. In order to meet the characteristics of high dense, rivetable, weldable and heat treatable, high vacuum die-casting process is needed to solve the problem of pores and shrinkage existing inside the die casting. By evacuating the mold cavity to make the metal liquid fill the cavity under vacuum, the gas involved in the process of pressure injection is greatly reduced to achieve a more dense casting organization and high comprehensive mechanical properties of the casting.
Shock tower die castings also undergo T7 heat treatment process to achieve high elongation performance, the mechanical properties of the product body sampling to yield strength R p0.2 = 120 ~ 140 MPa, tensile strength R m = 180 ~ 210 MPa, elongation A 50 mm = 10% ~ 15%.