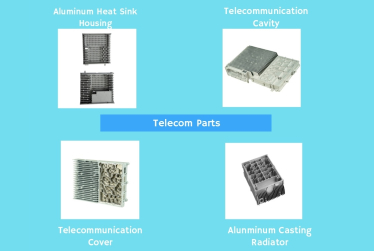 1. TELECOMMUNICATION COVER
Performance: The telecommunication accessory is a kind of cavity shell accessory of communication equipment, and the communication cavity accessory for die-casting is similar to the mold. It is a cavity mold that makes the communication cavity formed by die-casting. Telecommunication equipment includes wired telecom equipment and wireless telecom equipment. Wired telecom equipment mainly includes serial communication, professional bus type communication, industrial Ethernet communication, and conversion equipment between various communication protocols. The wireless telecom equipment is mainly wireless AP, Wireless network bridge, wireless network card, wireless lightning arrester, antenna, and other equipment.

Application: telecommunication base station, automobile, electronics, etc.



2.TELECOMMUNICATION CAVITY
Performance: Telecommunication cavity processing adopts aluminum alloy as raw material, and after accurate calculation by advanced CNC processing equipment system, the product is more durable and safer. The products processed by the CNC communication cavity can be accurate to micro-millimeter units. In terms of CNC telecommunication cavity processing customization, EMP has a professional technical production team and advanced production and processing equipment to produce high-precision, high-quality products.

Application: used in telecommunication base stations, automobiles, electronics, etc.
3.ALUMINUM CASTING RADIATOR

Performance: The manufacturing process of the die-cast aluminum radiator is complicated, with multiple production processes such as melting, die-casting, deburring, pressure testing, electrophoresis, powder coating, etc. It is precisely because it is easy to be extruded and formed into various shapes, so the appearance is novel and beautiful, and the decoration is strong. Using aluminum alloy material, good thermal conductivity, surpassing the copper-aluminum composite radiator.

Application: 5G equipment, power electronics, telecommunications, various power supplies, national defense, chassis, automobiles, wind power, high-speed rail, and many other industries.
4.ALUMINUM HEAT SINK HOUSING

Performance: The heat exchanger of the heat exchanger is used to transfer heat energy from one medium to another for cooling and heating. Most of the radiator constructors are in automobiles, buildings, and electronic products. The radiator is always the heat source to its environment, although in this environment, it may be used for any purpose of heating or cooling liquid or cooling liquid provided to it, such as engine heat dissipation.

Application: automotive, construction, machinery, and electronic products.