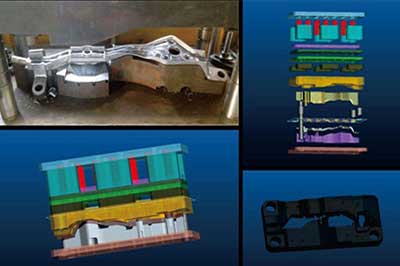 The wall thickness of aluminum dies castings, called wall thickness, is an important factor in the die casting process. The reasonable wall thickness of aluminum dies castings depends on the specific structure and performance of precision castings and is closely related to the parameters of the die casting process. To meet various requirements, thin walls and uniform wall thicknesses are preferred.
Ⅰ. Methods to prevent shrinkage of aluminum die casting parts
1. The wall thickness of die castings should not be too thin. Large-area thin walls are prone to defects such as insufficient pouring and cold insulation.
2. Selection of wall thickness of die casting parts: Normally, the wall thickness of die casting parts should not exceed 4.5 mm. Wall thickness suitable for small and medium-sized aluminum castings: 1-3 mm for zinc alloys, 1.5-4 mm for aluminum-magnesium alloys, and 2-4 mm for copper alloys.
3. The wall thickness of aluminum die casting parts should be uniform, which is conducive to the simultaneous solidification of the alloy liquid after "filling", which can avoid casting stress, shrinkage, cracking, and other defects.
4. The thick-walled part of the fireplace die casting parts structure can be reinforced with ribs or die casting parts to improve its mechanical properties and improve the process.
5. To increase the load-bearing capacity of die casting parts, it is not recommended to increase the wall thickness of aluminum dies casting parts. When the wall thickness of the precision casting exceeds a certain limit, its mechanical strength will decrease accordingly.
The excessive thickness of the die casting wall is prone to shrinkage holes and will lead to long solidification time and large shrinkage during the production of aluminum die casting parts, making it difficult to pull the core and die.
Ⅱ. The functions of aluminum die casting parts
1. Aluminum die casting parts have good durability, which is a property that many castings do not have.
2. Since aluminum is very stable and also has oxidation resistance, aluminum dies casting parts will not rust and are relatively resistant to corrosion. Because of this, many trim products use aluminum die casting parts so they won't fade.
3. After a lot of tests, it has been proved that aluminum products have good impact resistance, wind pressure resistance and weather resistance are also very good. Aluminum dies castings are lighter in weight, which can reduce the burden on personnel and reduce risks.
4. Since aluminum has good toughness, it determines the plasticity of aluminum and can be designed into various shapes. Ductility is particularly advantageous.
Because aluminum die-castings can be used for recycling, saving material, and expanding the range of applications. This characteristic of aluminum, which also determines its creativity, can be modified at will.
EMP Tech Co., Ltd provides turnkey services for all aspects of aluminum die casting parts, from die casting mold design and testing to aluminum die casting, CNC machining, and finishing. Welcome customers from all over the world to visit and consult us.