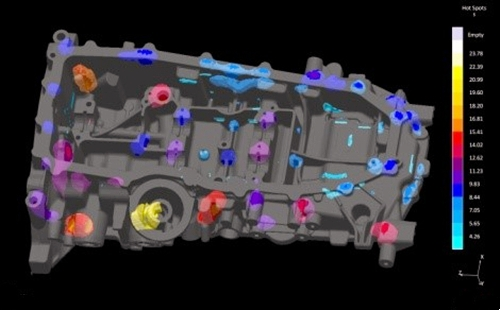 With the rapid development of the automobile industry, higher requirements have been put forward for the materials, design and manufacture of parts, and high integration, high performance and low cost have become the trend of development. Oil sump and lower block are both important zero castings for automobile engines. By integrating the lower block balance shaft and the oil sump collection and filtration function in the same part, the dead weight and volume of the engine are effectively reduced.
However, due to the complex structure and large variation in wall thickness, it also needs to be split into different products to be machined individually and then combined and machined. This engine integrated oil sump, contains 3 castings: the oil sump body, the balance shaft tile cover and a single balance shaft tile cover, all made of A380 modified alloy material.
The design technology of this new oil sump is characterized by 3 different ways of pouring and exhausting, flexible use of vacuum, point cooling, extrusion, mold temperature balance and other processes, and then finally processed and combined into a part. The key point of die-casting control is to constantly dig deep into the factors affecting the instability of product quality to monitor and control, so as to achieve the stability of the production process. After passing the preliminary program design and technical points of identification and analysis, the use of tend to automate the monitoring process control, so that the quality of the situation to achieve more than 97% of the pass rate.