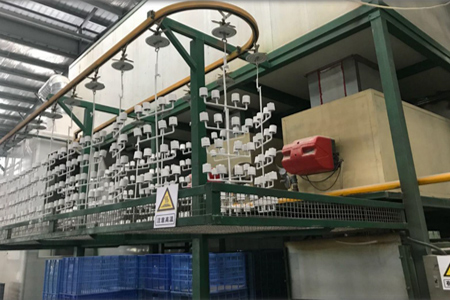 In recent years, the development of die-cast aluminum alloy has been rapid. The production of aluminum alloy die-casting parts has been increasing year by year, and the development is very fast. Enterprises have introduced large-scale die-casting machine automatic production lines and developed large-scale Shenzhen die-casting aluminum alloy. On the one hand, due to the trend of lightweight cars, there has been a huge demand for the global aluminum alloy die-casting parts market. And with the optimization and upgrade of the automotive industry in recent years, aluminum castings have gradually replaced gray iron castings, thus continuously stimulating the demand for aluminum alloy die-casting parts. Let's take a closer look at the situation in various major markets.
The market for aluminum alloy die-casting auto parts and motorcycle accessories
The production of automotive parts is becoming a global trend as automotive parts manufacturers are separating from cars and forming specialized parts groups. Almost all international die-casting automotive parts companies have established joint ventures or wholly-owned enterprises in China, with over 1,000 joint ventures. A batch of high-tech, efficient, and large-scale automotive and parts companies has gradually grown up. As the international automotive industry begins to implement a "global purchasing" strategy for parts and international cross-border vehicles implement localization strategies, there will be a huge demand for aluminum alloy die-casting parts and parts shortages.
The market for die-cast aluminum alloy hardware manufacturing
The next few years will be a period of high-speed volatility for the hardware industry, which will directly result in the widening of the polarization trend in the current camp of hardware cabinet brands. It is expected that there will definitely not be as many hardware enterprises surviving in the market in the next few years as there are now. However, this high-speed volatility of the hardware industry will bring huge opportunities and the results of the volatility will make the market operate more rationally.
The market for die-cast aluminum alloy electronic information products and other die-casting products
Due to the development of the global die-casting industry, the demand for aluminum alloy die-casting parts in various industries has also been increasing. At the same time, driven by the trend of global economic integration, the global die-casting production center has gradually shifted to China, and there is no doubt that the die-casting industry will develop rapidly.
In recent years, with the improvement of national casting technology and the enhancement of casting quality, the professional technical advantages of EMP aluminum alloy die-casting products have achieved high quality, high performance, and high price to meet the needs of most customers in the market. For us, we do not win with low prices, but with technology, quality, and service to create a good value for money for our customers and create a win-win cooperation mode!