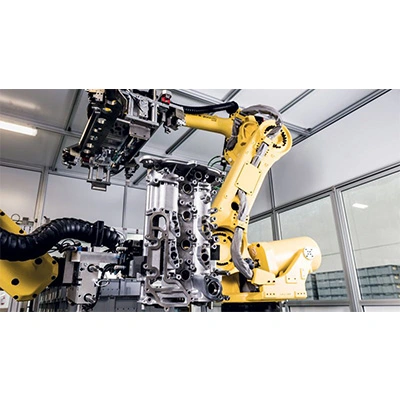 With the development of industries such as automobiles and motorcycles, and the realization of requirements for improving the quality of die castings, saving energy consumption and reducing pollution. The application range of non-ferrous metal alloy die castings, especially light alloy (aluminum and magnesium alloy) die castings is expanding rapidly. The information shows that the replacement of steel castings with aluminum alloy and magnesium alloy castings in industrially developed countries is becoming an important development trend. At present, die casting has become one of the more widely used processes in the forming process of aluminum alloys for automobiles, accounting for 49% of various automobile forming processes.
At present, there are about 3,000 non-ferrous metal die-casting enterprises in China, and the average annual increase rate of die-casting output is 12.58%, of which aluminum alloy die-castings account for more than 3/4 of all die-castings. The market capacity of China's automotive aluminum alloy die-casting parts is about 84 billion in 2018. The market capacity in the next 2-3 years is expected to exceed 100 billion yuan and maintain a high single-digit growth rate every year.
With the improvement of technical level and product development capabilities, the types and application fields of aluminum alloy die-casting products are continuously expanding, from automobiles to communications, medical equipment, machinery, and artificial intelligence and other industries.
Since the die-casting aluminum alloy was put into commercial production in 1914, with the development of the automotive industry and the invention of the cold chamber die-casting machine, its alloy types have been rapidly developed. Such as the die-casting aluminum alloy Japanese standard ADC12, ADC10, American standard A380, A360, EU ENAC43400, ENAC44300, German standard ALSi9Cu3, etc., are the most commonly used aluminum alloys for the die-casting factory.
EMP's products are mainly composed of small and medium-sized parts, which have a wide range of products and many types. With the increase of orders and the expansion of the market size, the EMP team has achieved a good annual output value of 250 million yuan in 2019. The continuous development of the market and the long-term cooperation of customers have enabled EMP to better grasp the industry trends and product development directions and strive to create new glories.