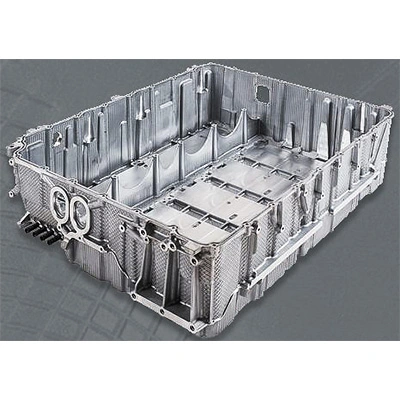 1. The lightweight of EV Battery Housing
In addition to the lightweight of the body structure, the battery pack itself also needs to be lightweight. The lightweight of the battery housing is one of the directions of efforts.
Especially for battery packs of pure electric vehicles, the pursuit of high mileage on the premise of the current lithium-ion battery level of development will inevitably require that the weight of the battery case be reduced as much as possible while ensuring high structural strength, the weight of the battery pack can be reduced about 10-30% by using light aluminum alloy than by using steel, which can reduce the overall weight of the battery pack to some extent.
Die-casting and extrusion are commonly used in the production of aluminum alloy housing. The housing can be molded in one piece (flatness and accuracy are affected to a certain extent, especially if the installation interface has sealing requirements, it may require post-processing to modify), do not need welding, need large tonnage die-casting machine to achieve, generally subject to size restrictions, housing size will not be too large, usually used for battery tray, you can increase the tailor-welded process to compensate if the size of housing is too large.
2. Examples of battery housing made of Die-cast Aluminum Alloy
1) GM Cadillacs battery housing using stamping and high-pressure casting process (below) , the tray using aluminum high-pressure casting (HPDC).
2) This battery housing is made of aluminum high pressure die casting aluminum Alloy AlSi10MnMg with a weight of 6.4 kg.

3) The parts as below show low pressure die casting of Aluminum Alloy AlSi7Mg with integrated cooling function.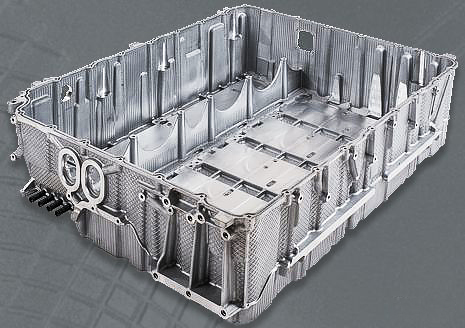 In general, the application of die-casting aluminum alloy in battery housing can be low-pressure casting or high pressure die casting. According to different requirements, it can also integrate the cooling function in it, omitting the individual cooling plate, which may be one of the trends in the future.