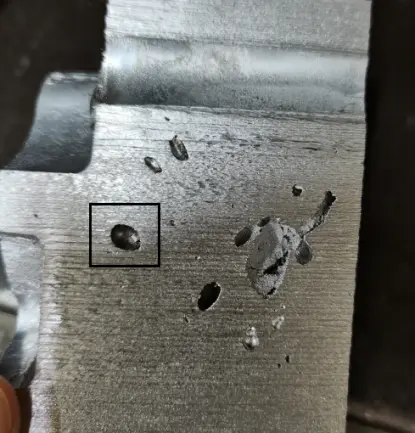 Porosity is casting - a kind of internal surface smooth spherical hole defects, generally in the cooling and solidification process in the form of bubbles precipitated gas can not run out of liquid surface and stay in the casting formation. Aluminum alloy die casting porosity belongs to the internal defects and is not easy to be observed and identified, especially dense pinhole type porosity defects, X-ray flaw detection can not be identified and detected.
In die-casting molding metal filling theory on the basis of the formation of aluminum alloy die casting porosity analysis and control, through the dual-channel high-vacuum technology, purification and degassing technology, spraying process optimization, pouring overflow system optimization, die-casting process parameter adjustment and other technological research and application to solve the die casting porosity defects.
(1) Through the application of new dual-channel high vacuum technology, reduce the content of gas inside the mold cavity and pressure chamber to make it close to the vacuum state, and at the same time, increase the application of purification and degassing technology to reduce the gas content of the melt, thus reducing the generation of internal porosity in the castings.
(2) Optimize the spraying process, by shortening the spraying time, improving the nozzle direction, and extending the blowing time to reduce the residual content of the release agent, which can effectively avoid the dense pinhole defects produced by the instantaneous vaporization of the aluminum liquid and moisture contact.
(3) Reasonable high-speed switching point selection has a greater impact on the internal quality of castings, while the mold pouring system is improved according to the internal quality requirements of the product, which is of positive significance to the improvement of die casting quality.