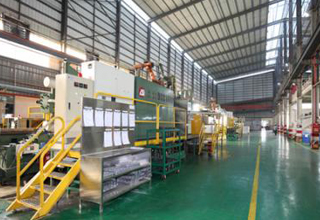 Aluminum die casting factories have certain requirements on quality control management during production. In order to ensure the quality of production, each aluminum die casting factory should take the operations of quality control management and inspection operations in the production process seriously.
1. The operation content of the quality control in the production process of aluminum die casting mold
(1) Establish a quality management system, be clear about the established goals, and call related personnel to make active response.
(2) Do a good job in technical inspection of aluminum alloy die casting and materials.
(3) Do a good job of recording, accounting and analyzing product quality.
(4) Implement process quality control, especially the quality control of key processes.
(5) Strengthen the check of defective products and strictly control the rate of delivery of defective products.
(6) Draw up a maintenance system for die casting equipment and aluminum die casting mold to ensure the service life of die casting equipment and molds.
2. Technical inspection operation of aluminum die casting factories
According to different inspection methods, there are four types of technical inspection operation.
(1) According to the inspectors, it can be divided into: professional inspection and self-inspection.
(2) According to the technology, it can be divided into: pre-inspection, first article inspection, intermediate inspection and final inspection.
(3) According to the nature of inspection, it can be divided into: appearance inspection, physical and chemical inspection.
(4) According to the inspection quantity, it can be divided into: full inspection and sampling inspection.